The NuLean Weight-Loss/Total Body Transformation System melts away pounds and inches in three vital synergistic ways:
1
It Cleanses fat, excretes impurities out of your body.
2
It Revitalizes the metabolism so that your body operates at its optimal fat burning level.
3
It Reprograms your body so that you no longer crave processed foods, empty carbs and sugars, but instead desire nutritious life-enhancing foods such as proteins, fruits and vegetables. Whether you want to lose 5 or 150 pounds, this can easily be achieved by doing the NuLean Weight-Loss/Total Body Transformation System
The system provides these health benefits:
Boosts energy and stamina.
Helps drop unwanted pounds and inches along with prescribed diet and exercise.
Decreases sugar and carb cravings.
Improves physical endurance.
Strengthens the immune system.
Helps promote an alkalinity in the body which promotes wellness.
Aids digestive health.
Real Results from Real People!
Megan C.

"I lost 30 pounds in six weeks with NuLean. My carb and sugar cravings diminished to nothing. My energy level soared. After trying so many other weight loss methods that did work I am so happy. I feel like to not only got my body back but got my life back as well!"
Dr. Shane Riemer

"The very first week that I did NuLean I lost 14-lbs! I felt fantastic. My energy went up while my hunger and carb cravings went down. I continued to do the NuLean program for another 17 weeks and lost a total of 60 lbs. A year later the weight is still off! After I lost weight my patients and other people started saying things like, "You look great. What are you doing?" I would tell them NuLean and they would say, "Can I do it?" NuLean sold itself because the results were so visible on me and my wife, Cheryl, who also works in the practice."
How Does the NuLean Weight-Loss/Total Body Transformation System Work?
The program takes off weight in 2 simple and easy phases.
Phase 1 is the Detoxification Stage
By following the Phase 1 instructions exactly and taking the Phase 1 Products, your body will begin to eliminate the fat producing toxins that have been making, and keeping you overweight. This one week detoxification phase is vital to achieve optimum health and long term weight-loss.
Phase 1 consists of 3 products: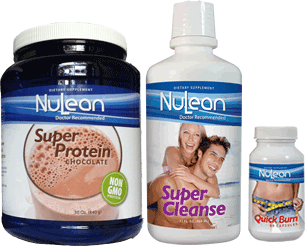 - NuLean Super Cleanse consists of a synergistic blend of life-giving nutrients designed to cleanse the body of impurities.
- NuLean Super Protein is a proprietary blend of proteins, fibers and digestive aids to act as a nutritious meal replacement and assist in losing weight, maintaining muscle mass and energizing the cells.
- NuLean Quick Burn contains over twenty-five botanical herbs and fruit and vegetable extracts combined with an array of vitamins and minerals formulated to revitalize the metabolism.
The way Phase 1 works is the Super Cleanse and Super Protein are taken for one week and the Quick Burn for one month. Don't let this short period of time fool you. In a Clinical study, those doing the NuLean Phase 1 Program lost on average 7-1/2 pounds (and just as many inches) in the first week alone! They also enjoyed considerable improvements in their health as verified by a series of before and after blood tests.
After Phase 1 – first week is completed go on to Phase II, the Power Cleanse. You can do Phase II for consecutive weeks until you lose the total amount of weight you would like. Or, after doing Phase II for a couple of weeks (or longer), you can cycle back to Phase I and do it for another week for aggressive weight reduction toward your overall weight-loss goal.
The average person loses 7-1/2 pounds in the first week of doing Phase 1.
Phase 2 is the Stabilization Stage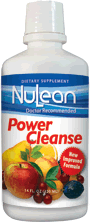 Phase 2 is the follow up program to Phase 1.
Directly after completing Phase 1 continue to take the Quick Burn capsules, 3 a day until the bottle runs out (The capsules should last 2 weeks past Phase I, 3 weeks total). During this same period start Phase 2 which consists of the NuLean Power Cleanse. This is a highly concentrated liquid cleanse that is different than the Super Cleanse in Phase 1. You take the Phase 2 Cleanse each morning and evening. One bottle lasts one week. The Phase 2 Cleanse is designed to help you continue to lose weight. Normally Phase 2 is done repetitively for 2 weeks after 1 week of Phase 1. If you would like to lose more weight after this first month simply do Phase 1 for a week again, followed again by 2 weeks of Phase 2. You may repeat this cycle as often and as many times as you like until your target weight is achieved. The cleanse concentrate can be taken by itself, or taken in conjunction with the NuLean protein powder for extra energy.
In the process of doing both Phase 1 and Phase 2, the average person loses 1 to 4 pounds a week.